Condor is a leader in water resource facility design and siting studies, and maintains a high level of competence to perform a variety of services related to water resources and hydroelectric project design, development, and post-construction monitoring. Our staff has developed a wide range of experience in performing investigations required for the feasibility, design, and construction of major water resources and related public works projects. In addition, Condor has extensive experience in working with the regulatory agencies involved with water resources projects. Condor's experienced staff includes civil, water resource, and environmental engineers, as well as certified geologists and hydrogeologists, capable of providing a variety of quality services.
Services Provided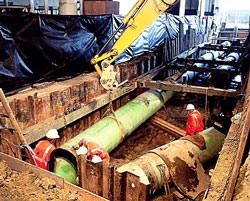 Water Resource Facility Siting & Design
Storm Water Compliance & Facility Design
Water Supply Planning & Design
Dewatering/Drainage Design
Storm Water Runoff Calculations
Storm Water Diversions Design
Retention/Detention Pond Design
Pond/Canal Liner Design
Tunnel Feasibility/Design
Surface Hydrology
Storm Water Pollution Prevention Plans
Storm Water Best Management Practices Design
Physical, Natural, & Social Resource Mapping
Baseline Siting Evaluations
FERC Licensing Applications & Documentation
Geological, Biological, Planning & Engineering
Safety Evaluations of Existing Dams
Dam-Break Flood Inundation Studies
Conduit and Culvert Sizing
Canal and Pipeline Design
On-Site Construction Monitoring
Condor provides a wide range of hydraulic engineering and hydrology study services, including storm water and surface water management and design of hydraulic structures. By utilizing the latest hydrologic and hydraulic computer models, Condor designs efficient and cost-effective storm water and water conveyance systems.
Condor's storm water services include design of storm water collecting and containment systems, Storm Water Pollution Prevention Plans (SWPPP), Storm Water Management Plans, Storm Water Best Management Practices (BMPs), and storm water monitoring and sampling. Condor has designed storm water conveyance and treatment systems for construction sites, industrial plants, and agricultural facilities. Condor also offers a complete range of storm water collection, testing, analysis, and reporting, as well as a staff of highly trained field technicians to collect the required samples for each site. We also train site personnel to collect samples and equip facilities for sample collection and shipment to a state-certified laboratory for analysis. Condor can provide assistance throughout program development, implementation, and reporting.
Condor's engineers and hydrologists perform watershed hydrologic modeling to evaluate volumetric flow rate and volume from various design conditions including 100-year storms and 100-year wet seasons. The results of these hydrologic studies are efficiently transferred to hydraulic design to evaluate flow, conveyance, and containment compliance. Design examples include agricultural runoff ponds, municipal detention and retention basins, and agricultural tailwater collection systems. Additionally, Condor conducts hydraulics studies to evaluate erosion protection and high water elevations for creek, rivers, and sloughs to assist in embankment stabilization and water containment.
Related to water supply, Condor evaluates the usable storage of reservoirs, conducts dam failure inundation studies, engineering for irrigation canals, and designs tunnel conveyance systems. For a variety of industries, Condor has designed domestic and industrial low-cost wastewater treatment systems, including land disposal, treatment ponds, lagoons, provided support in obtaining NPDES permits, and has conducted periodic monitoring.