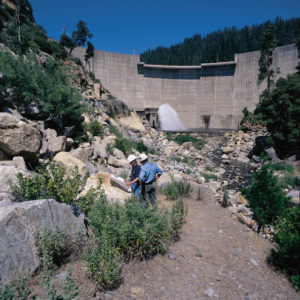 Since the 2017 Oroville Dam incident, California lawmakers and regulatory agencies have focused on heightening dam safety statewide. By closely monitoring resulting legislative changes, Condor – already a leader in providing digital inundation maps and emergency action plans (EAPs) for agencies overseeing dams throughout California – is working to assist our clients with meeting new safety measures as well.
With the passage of Senate Bill 92, inundation maps that show the approximate downstream area that would be affected by a dam failure are now under the jurisdiction of the Department of Water Resources, Division of Safety of Dams.  All inundation maps must now be available to the public, as well.
Condor performs the inundation mapping in accordance with California Code of Regulations for Inundation Maps and FEMA P-946, Federal Guidelines for Inundation Mapping of Flood Risks Associated with Dam Incidents and Failures, July 2013. Along with the inundation mapping, Condor prepares a technical memorandum that addresses the technical study requirements in Section 6161. (a) (4) of the California Water Code.
SB 92 additionally requires those in charge of dams to prepare EAPs once inundation maps are approved. The EAPs and inundation maps must be updated at least every 10 years or when changes to the dam or downstream occur. Annual EAP notification exercises, conducted with a local public agency, are also required.
The EAPs Condor prepares identify potential emergency conditions at a dam and the preplanned actions needed to minimize any potential for injury or property damage. Each EAP lists actions the dam owner should take to control or alleviate any problems at the dam. Procedures and information to assist the dam owner in issuing early warning and notification messages to responsible downstream emergency management authorities of an emergency situation is also part of the formal document. And the inundation maps within each EAP prioritize for emergency management authorities the downstream areas needing action should an emergency ever occur.