Condor is a leader in the geotechnical/geological evaluation, design, and engineering of small to medium-sized tunnel projects, including over 200 tunnel projects in the Napa, Sonoma, Lake, Mendocino, Central Coast, and Sierra-Central Valley regions of California, as well as other areas.
Condor is a diversified, multidisciplinary organization with the capability to provide a variety of earth and environmental science, engineering, surveying, mapping, GIS, and construction management and monitoring services, to private and public sector clients. Condor's staff has over 20 years of experience in geologic investigations, design, engineering, construction, and repair of tunnels. This experience includes tunnel feasibility studies, evaluating geotechnical foundation, slope, and tunneling conditions, tunnel liner and portal design, tunnel rehabilitation, materials testing, and construction monitoring.
Support — Project Manager
Scott Lewis has over 25 years of experience in geologic investigations, construction, and repairs of tunnels, structural foundations, landslides, slope stability, dam sites, and other geologic hazards. Mr. Lewis specializes in wine cave feasibility studies, design, construction management, and field engineering. Mr. Lewis has been involved in more than 225 tunnel, wine cave, and underground structure projects throughout his career. He joined Condor in 1989 and is currently its Principal Engineering Geologist.
Representative Project Experience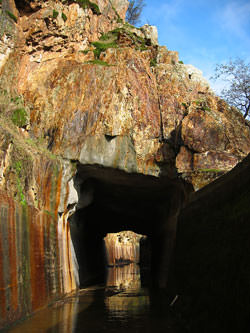 Project Feasibility Studies
Design Services
Tunnels and Portals
Construction Management
Serving as the owner's technical representative
Technical review of contractor's methods
Field Engineering
Design optimization based on field conditions
Field observations of geologic conditions to determine the applicability of the design
Quality Assurance
Field inspection of tunneling and construction
Stability monitoring during and after construction
Materials Testing
Specialty Consultants
Failure Analysis and Repair Design
Rehabilitation