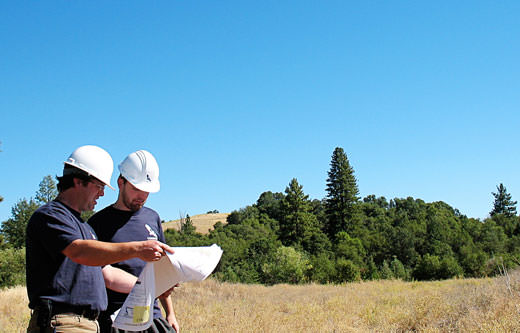 Condor provides geotechnical engineering services throughout California, specializing in the winery regions, the Central Valley, and the Sierra Foothills and mountains. In addition, we are licensed in Oregon and Arizona and provide geologic and engineering services in these nearby states. Condor's experienced team of Registered Geotechnical Engineers and Certified Engineering Geologists provides a broad range of geotechnical engineering services. We believe that a sound geotechnical engineering practice blends science, creativity, and business sense, and that too much bias toward pure science overlooks the need for creativity. Too great an emphasis on creativity ignores the need for careful scientific deliberation, and failure to pay proper attention to the business aspects of a project can drive costs out of control. Clients depend on Condor for balanced recommendations that have solid scientific basis, that are creative in design and scope, and that they can afford to implement. Value engineering is an important facet of our experience and capabilities.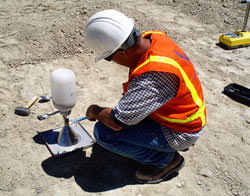 Since 1983, Condor has completed thousands of geologic, geotechnical, and earth science related projects. Our licensed professionals have been performing geologic hazard studies, geotechnical investigations, and engineering studies to evaluate sites for the construction of schools, hospitals, wineries, multi-story structures, office buildings, residential developments, and all types of public infrastructure, including tunnels and dams. Our clients for these services include owners, governmental agencies, water and power authorities, and construction and development companies. Our reputation with regulators at the state, county, and city levels has helped to expedite the review and permitting process, thus saving our clients time and money.
As scientists and engineers, Condor places a high value on technical aptitude, knowledge, and experience. However, we add a strong dose of common sense to everything we do. We believe that the key to our success is our willingness to recognize that alternatives exist and our eagerness to explore those alternatives. Over the past 25 years of providing geotechnical engineering services, Condor has learned that there is rarely only one way to approach a project.
Services Provided
Preliminary Geotechnical Engineering Investigations
Design-Level Geotechnical Engineering Investigations
Hydrogeologic and Geophysical Investigations
Project Feasibility Studies
Geologic and Seismic Hazard Studies
Fault Location Studies
Foundation Engineering
Engineering Geologic Investigations
Slope Stability Evaluations
Earth and Rock Dam Evaluation and Design
Landslide Mapping and Mitigation
Rigid and Flexible Pavement Design
Mechanically Stabilized Earth design
Retaining Wall Design
Shoring Design
Tunnel Design
Laboratory Soil Testing
Forensic Engineering
Expert Witness Testimony
Soil Liquefaction Analysis
Dewatering Design and Implementation
Braced Excavation Design
Soil Stabilization Design