With our collaborative teams of professional geologists, engineers, and field technicians, Condor provides a full scope of storm water services for municipalities, industrial facilities, and construction sites. We work with our clients and affiliated consultants/contractors to effectively implement Storm Water Permit requirements. Our storm water experience includes: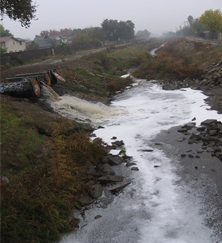 Development and implementation of National Pollutant Discharge Elimination System (NPDES) and 13267 Letter (regulatory directive to submit water quality technical reports) storm water monitoring programs;
Development and implementation of storm water management programs (SWMPs) for Phase I and Phase II Municipal Separate Storm Water Systems (MS4s);
Preparation of water quality monitoring work plans;
Assessment and reporting of storm water and ambient water quality monitoring data for regulatory compliance;
Development of cost-effective best management practices (BMPs); and,
Design and construction of storm water collection and retention systems.