The National Pollutant Discharge Elimination System (NPDES) General Permit for Storm Water Discharges Associated with Construction and Land Disturbance Activities (Order No. 2009-0009-DWQ) requires that a Storm Water Pollution Prevention Plan (SWPPP) be prepared for any construction or demolition activity that results in a land disturbance of equal to or greater than one (1) acre. To obtain coverage under the General Permit, Permit Registration Documents (PRDs), which include a Notice of Intent (NOI), SWPPP, and other documents required by the General Permit must be submitted to the State Water Resources Control Board.
Condor's Qualified SWPPP Developers (QSDs) are available to assist with any construction project in the preparation and submittal of the PRDs and in the development of project-specific, cost effective Best Management Practices (BMPs). Condor has provided construction SWPPP services since 1999 for major agricultural and grading projects throughout California.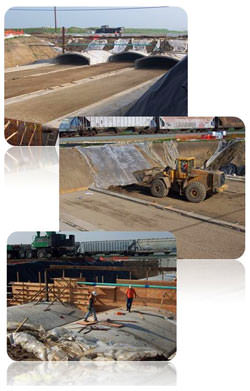 Condor's construction storm water compliance services include:
Assistance with the preparation of the Annual Report due September 1st of each year;
Assistance with filing the Notice of Termination (NOT) at the completion of the construction activities;
Training to those individuals assigned responsibility for non-storm and storm water visual observations; sampling and analysis; BMP installation, inspection, maintenance, and repair; and ensuring full compliance with the permit;
Implementation of all elements of the SWPPP; and,
Site inspections and sampling on the project as required by the General Permit.
Condor's Capabilities Include: